Home Taping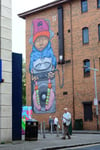 Painted on Church Street at the heart of the Cathedral Quarter, Belfast. This one is a classic and has stood up well to the test of time. It turns out home taping didn't kill music after all.
High quality A3 print on 260gsm gloss photo paper.
Edition of 100 - Signed and numbered.
Posted via Royal Mail 1st class. Flat.
Free Shipping to UK & Ireland.